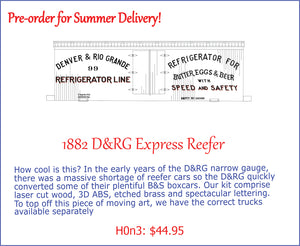 Available for pre-order now for Summer delivery!
And now for something truly eye catching...
The Billmeyer & Small 24' boxcars were everywhere in the early years but what the D&RG lacked, was reefers so several of the boxcars were converted to reefer use.  Kit contains fine laser cut woods, etched brass and 3D ABS and full lettering for D&RG express billboard service. The correct 3'7" wheelbase trucks are available separately with full, and I mean full; brake rigging.