D&RG/D&RGW 4000 Series 30' Boxcars in HOn3
All new and coming soon in HOn3. A classic 4000 boxcar! These kits are fully detailed inside and out and have all the parts and lettering for all versions from 1913 to the late 40s. The latter version has a one piece etched brass Murphy roof that renders exquisite detail with super easy installation.
Click here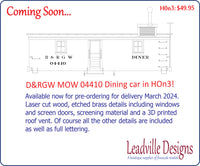 D&RGW MOW 04410
Coming early in 2024, D&RGW MOW 04410! Super detailed and accurate, this kit will be a must have for all D&RGW fans. Initially available in HOn3, but interest is showing a wider release may be imminent
Click here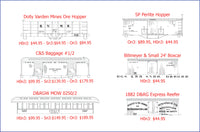 Shipping NOW!
Shipping now are kits for the Dolly Varden Ore Hopper, C&S baggage cars #1 & #2, D&RGW MOW 0250 & 0252, SP Perlite hoppers, D&RG (and MANY others) B&S 24' boxcars and the D&RG 24' Express reefer. Many folks saw these at the Denver NNGC and based on their feedback were quite jazzed about them!
Welcome!
We are Leadville Designs, your boutique supplier of finescale models. Our goal is to provide the finest model railroad products in all scales. Using the latest computer driven technologies, our products are designed and virtually tested in 2D or 3D CAD environments extensively before being made available. All our products are based on builder's blue prints, library sourced data, and photo resources. If any of this sounds familiar, it should! Leadville Designs is a spinoff of The Leadville Shops and is piloted by Bill Meredith.
All of our products are domestically produced and sourced using only the finest materials and suppliers.
Welcome to our site. We are sure you will find something that will catch your attention. We are passionate about trains; just like you. 
NEWS RELEASE: MODELER'S CO-OP PROGRAM
Hey everyone, I just wanted to let everyone in on our new program that we think will be a game changer…

So what is it?

We all have our own interests and wants in this fine hobby whether that be a unique piece of rolling stock or structure. How many times have we wished someone would produce a kit for a __________? As a manufacturer, it would be wonderful to just make everything everyone wanted. But it's just not practical.

Enter our Modeler's Co-Operative!

Basically, it's an arrangement between an interested party (one or more people) and Leadville Designs whereby the interested party underwrites the development costs of a particular subject kit. In return, that party receives a substantially reduced price on each kit. Leadville Designs will then offer the kit as part of the line. For every kit sold to the general market, those who underwrote the costs receive a commission. If the kit sells well, the investors could recover their out of pocket costs and even make money.

Win-win!

Now should there be several people interested in a particular project, then the commission will be divided equitably based in the percentage of investment by each person. If an organization (for example a historical society) invests, then that organization will be considered a single investor. If the design is readily adaptable to other scales, and the investor covers the scale conversion costs; then the investor will receive commission for those sales as well.

Any limits on projects?
As a manufacturer, we primarily work in wood, etched metals, and printed 3D resins. The wood is laser and saw cut, the metals are usually brass or nickel and chemically etched. There is no size limit. Nothing is too small or too large.

What's in this for you?
Best case scenario you get the kits you want at a discounted price AND you turn a profit through subsequent market sales. Worst case is you still get the kits you want at a discounted price with the expense of the development costs.

So just how much are we talking about here?
Investor costs are tied directly to the complexity of the project. This can *typically* vary in the $500-800 range. You also have the option of underwriting the costs to produce the kit in another scale other than what you want. In return you receive a commission on any of those kits sold as well. Lastly, you will only be invoiced after the design work is well underway. There is no upfront cost.

On the Leadville Designs web page, there will a list of projects that folks are interested in. If any of these are not fully funded, and you want in, then you can sign on. The percentage of how much each investor puts in will directly affect what percentage of commission each investor receives. There will also be postings on our Facebook page for those who subscribe.
While there are few guarantees that the kit that you want will have a broader appeal, what I can guarantee you is that you will finally get the kits you want and they will be of excellent quality and that alone is pretty darn good.

Interested?
Email me at leadvilledesigns@gmail.com and let's talk!
Happy modeling!

Jump to Co-Op page now!
Custom Decals
We produce our own decal lettering for our products. We offer custom lettering to those who may need something special...
Click here